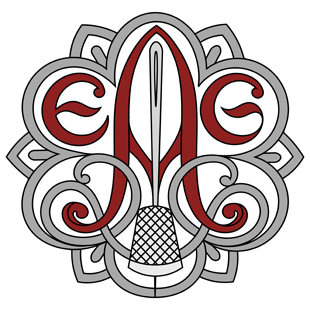 EGA's Legacy Logo
Corning is a proud member of the Embroiderers' Guild of America (EGA) whose unique purpose is to foster the art of needlework and associated arts. EGA is open to anyone interested in embroidery from beginner to professional.

Our goal is to help needleworkers of all levels of ability to learn, practice and perfect their art. Monthly programs recognize that the world of embroidery is virtually limitless and are lessons on various types of stitching. Informal sew-ins provide another opportunity to follow up with the instructor or experienced members for additional help with a project, or simply to stitch and socialize.

Our affiliation with the national organization consisting of approximately 260 chapters, allows us to tap into rich resources of education. Besides lively articles on needlework, the quarterly publication, Needle Arts, features embroidery patterns and instructions. EGA offers Group or Individual Correspondence Courses giving members further opportunity to expand their embroidery experiences.

Corning exhibits its members' work where examples of our craft are on display, thus sharing our accomplishments with area visitors and residents. Overnight trips and day trips are scheduled periodically to museums or estates where we can observe the history of embroidery, plus visits to some of the best stitchery shops in the area.


Meetings
First Monday of the month year round
10:00 am - 2:00 pm
Corning Senior Citizen Center
1 Park Lane, Corning, NY
Winter months, January and February are held remotely. Meeting cancellations, due to inclement weather, will be clearly published on the homepage of this website. An email to members will follow with rescheduling information if applicable.


Stitch-ins
Stitch-ins are held on the third Wednesday of each month from 11:00 am to 2:00 pm, location varies and is published in newsletter.

Membership
Membership dues of $50.00 are due in May of each year. Dues for 2024 will increase to $59.
Other membership levels include; MAR plural member $9, EGA lifetime member $11, EGA plural member $11.


Elected Officers
President - Laurie Corbett
Vice-President - Patty Kahl
Secretary - Shirley Egan
Treasurer - Velda Schmieg
Region Representative - Jean Hubsch


Board
Education - Patty Kahl
Program - Joy Vandling
Newsletter - Katie Tomlinson
Historian - Laurie Corbett
Treasurer/Membership - Velda Schmieg
Outreach - Joyce House
Hospitality/Sew-in - vacant
Parlimentarian - Judi Gulick
Nominating Committee -
Web, Facebook, Instagram - Katie Tomlinson